Mining has become a vital industry in the Gulf as part of overall efforts to diversify away from hydrocarbons ? it spells good opportunities for investors, contractors and suppliers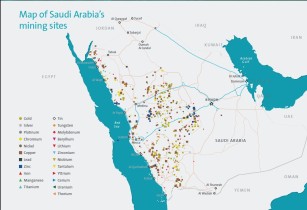 The new mining law focuses on sector sustainability. (Image source: Invest Saudi)
Strategic efforts to wean the Gulf?s major economies away from crude oil have been underway for some years. It has driven investment into related industries, such as downstream petrochemicals and gas, as well as spurred the advance of new areas like IT, finance and other services.
Yet other natural resources, beyond oil and gas, also hold strong potential. They include a major shift to renewable energy ? the scope for solar power alone across the GCC is enormous ? as well as the rapid growth of traditional mining activities.
Global investors are beginning to wake up to this mining and minerals potential ? and that spells opportunity for flagship industry suppliers: Liebherr, Caterpillar, Volvo Penta and Komatsu.
The region?s biggest economy, Saudi Arabia, has earmarked the mining sector as a major future contributor to jobs and growth going forward, and others including the UAE, Oman and elsewhere in the Middle East, are following suit.
New Saudi law
Saudi Arabia?s mining and metals processing sector has grown rapidly in recent years, and forms a critical part of the kingdom?s Vision 2030 blueprint. According to the nation?s investment agency, Invest Saudi, the sector now contributes around US$17bn to the economy, employing a quarter of a million people.
New mining laws, approved in June 2020, suggest that the government wants to see a lot more. That will mean exploiting vast untapped reserves of bauxite, the main source of aluminium, as well as phosphate, gold, copper and uranium.
Saudi Arabia?s energy ministry estimates that the kingdom?s unused mineral resources are worth around five trillion riyals (US$1.33tn).
Officials hope to triple the sector?s contribution to overall economic output over the next decade and create a further 200,000 jobs.
The new law opens up access to financing for would?be investors and supports exploration and geological survey work, state news agency SPA reported, citing the country?s industry and mining minister, Bandar Alkhorayef.
?This will help attract local and foreign investors and eventually raise mining sector participation in gross domestic product (GDP),? he was quoted as saying.
Read more in our latest issue of Technical Review Middle East!