Metso Outotec has launched a comprehensive range of smart and sustainable filtration solutions to meet the needs of the mining industry, including the most demanding concentrates and tailings dewatering applications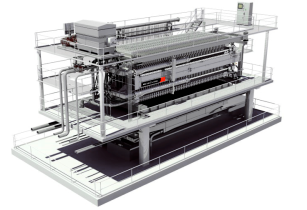 The filtration solutions feature a sustainable design to improve environmental performance. (Image source: Metso Outotec)
The selection includes 15 different filter types, ranging from pressure filters of up to 100 bar pressure to vacuum filters and polishing filters, coupled with an unmatched global service portfolio. The well-known Larox brand, of which Metso Outotec is the sole owner, will be reintroduced as a strategic product family name for selected filters and related services.
Jussi Venalainen, vice-president, Filters at Metso Outotec, said, ?Our unique filtration solutions portfolio is based on a thorough assessment of current and future customer needs and a detailed review of related technologies. As a result, we can now offer an industry-leading option for all types of mining dewatering needs.?
The filtration solutions feature a sustainable design to improve environmental performance through energy, emissions, and water-efficiency, and are part of the recently launched Metso Outotec Planet Positive offering. They also comply with the highest safety standards which are easy to operate and maintain, and are equipped with highly automated features to support advanced process optimisation and remote support.
Tomi Ravattinen, vice president, Filtration, Services, at Metso Outotec, said, ?Metso Outotec?s certified service experts are well positioned to support our customers worldwide in filter-related aftermarket needs. Services and parts can be integrated to any of the dewatering solutions with a Life Cycle Services (LCS) contract to benefit our customers with fixed KPIs.?