Saudi Arabia?s Ma?aden Gold and Base Metals Company (MGBM) has awarded a construction contract to Outotec and Larsen & Toubro (L&T) consortium for the Mansourah and Massarah gold mine project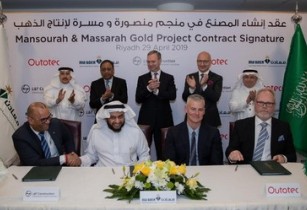 The project is in line with the company?s ambitious strategy to increase gold production to one million ounces per year. (Image source: Ma'aden)
The Mansourah and Massarah mines, processing plant and associated infrastructure will be located in the central Arabian gold region, one of the richest geological areas in the kingdom and are due to be completed in 2022.
The project is expected to produce an average of 250,000 ounces of gold per year over the life of mine and the total investment in the mine is expected to reach US$880mn. The processing plant is set to process up to four million tonnes per annum of the complex refractory ores contained in the deposit.
Darren Davis, CEO of Ma?aden, said that the project aims to increase the company?s gold production to one million ounces a year, eventually creating many direct and indirect job opportunities and contributing to the development of communities around the operational areas.
According to Ma'aden, this project aims to be the first in the country to utilise solar power as an energy source. In addition, it is seen to benefit from the treated wastewater through a 430-km pipeline from the municipality of Al Ta?if to the remote and water scarce region where the mine will be located.
MGBM produced 415,000 ounces of the precious metal in 2018 and aims to increase this to one million ounces a year under Ma?aden?s 2025 strategy.
Ma?aden operates six gold mines in western Saudi Arabia including the Ad Duwayhi mine, which achieved commercial production in 2017 and produced 275,000 ounces in 2018. The company plans to spend US$67mn on new exploration concessions in 2019, marking a three-fold increase in its investment commitment on previous years.
It has also launched an accelerated exploration programme to shorten the time needed to move new discoveries into development.