Bentley?s WaterGEMS ? a water distribution analysis and design software ? aims to analyse water distribution system and build a comprehensive water distribution network, and has been optimised in a number of projects in the Middle East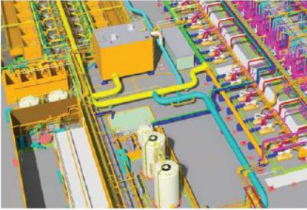 Expansion of the wastewater treatment and reclamation plant in Kuwait. (Image source: Bentley)
Dorsch Gruppe, engineering consultants to the Abu Dhabi Housing Authority, has used Bentley?s WaterGEMS softwater in its US$42.2mn project that supplied water to 275 villas, two mosques and two retail shops in Al Ain, Abu Dhabi.
The WaterGEMS technology aims to adjust hydraulic parameters and determine the best pipeline locations, diameters and materials. Compared to manual analyses, Bentley technology aims to reduce design time by 10-20 per cent and cost by five per cent. According to Bentley, overall design time is decreased by five to 10 per cent compared to traditional design, with the cost of fittings and pipeline decreasing by five per cent and five to 10 per cent respectively.
Federal Electricity and Water Authority (FEWA) has a mandate to supply potable water to a farm and the 5,000 people living in the vicinity of Shaikh Mohammed Bin Zayed Road in Umm al-Quwain in the UAE. The solution was to connect to an existing pipeline owned by Abu Dhabi Transmission and Despatch Company. A hydraulic study considered the optimal connection for the proposed and existing pipelines.
WaterGEMS verified that the connection would create a safe, sustainable water network with appropriate pipe sizes and valves and sufficient pump capacity. HAMMER identified surge protection measures. Bentley software cut analysis time by one-third compared to manual calculations and reduced resource hours by 50 per cent. This US$270,000 project provided continuous water to a population that previously has an intermittent supply.
Designed to treat 260mn litres per day of wastewater, the new wastewater treatment and reclamation plant serving Sulaibiya, Kuwait, will provide a significant source of non-potable water, relieving the stress placed on the city?s drinking water supply. GE Water and Process Tech are responsible for the design and construction of the US$381.01mn project.
Successful implementation relied on having an integrated 3D model for clash detection and the design reviews while improving collaboration with a single source of information. The team achieved this using ProjectWise, which provided the engineers with constant access to the most up-to-date design plans. The teams used Bentley Navigator for clash detection, instantly highlighting errors and issues. It is estimated that Sulaibiya will save US$11bn over the lifetime of the plant.