Spanish company Cadagua, subsidiary of Ferrovial Agroman, has been awarded a contract estimated at US$55mn (Dh201.85 million) to construct a seawater desalination plant in Ajman by the Federal Electricity and Water Authority (Fewa).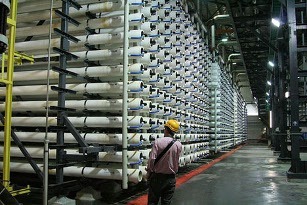 Image credit to www.treehugger.com
Cadagua, in a consortium with Ajman-based Eisa Engineering & Marine Works LLC, will be responsible for the design, manufacture, supply, construction, installation, testing and commissioning of the reverse osmosis plant.
The company has chosen online project collaboration platform, 'think project!', for the plant construction. Think project enables all project participants to work on a central platform to securely access and exchange information and documents at any time and from any place.
"The Ajman seawater desalination plant is our third project in the Middle East. In order to manage all documents and communication processes with our project partners in a structured manner on a central platform, we turned to an online project collaboration system.
Think project particularly appealed to us because it has a high degree of flexibility and think project! consultants are available to support us at our company headquarters in Spain, as well as onsite in Ajman," said Gonzalo Pedraz, Head of Contract Engineering Department at Cadagua.