Dubai Electricity and Water Authority (DEWA) has awarded a consultancy contract worth US$1.72mn to design and construct two water reservoirs in Al Nakhli with a storage capacity of 120mn gallons, and in Al Lusaily with a storage capacity of 60mn gallons, to increase the storage capacity of Dubai to 1010mn gallons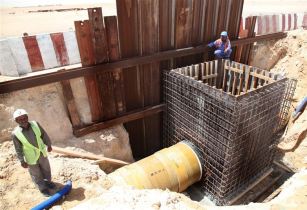 (Image source: Government of Dubai)
This supports DEWA?s strategy to implement vital projects, especially infrastructure, and upgrade the efficiency of water and electricity networks, to meet the growing demand for these services.
?This project implements our strategy to provide a reserve water supply that will meets Dubai's expected daily consumption of about 412mn gallons per day in 2020, and supports our efforts to strengthen water pipelines and increase water flow to meet the rapid growth of water in various part of Dubai,? said HE Saeed Mohammed Al Tayer, MD & CEO of DEWA.
?The project includes the design of the reservoirs according to the latest standards of sustainability, and the supervision of the implementation of the project at the two sites. The construction and operation of both reservoirs is expected to be complete within 32 months. DEWA?s total storage capacity will increase to 1010mn gallons, compared to the current capacity of 830mn gallons,? noted Al Tayer.