UAE district cooling company Empower has awarded a contract to OverseasAST worth US$12mn for Madinat Jumeirah?s chilled water pipe network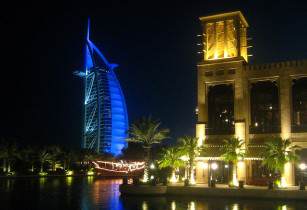 Empower's district cooling projects include Burj Al Arab and hotels within the Madinat Jumeirah. (Image source: PetethePainter/Flickr)
Madinat Jumeirah is a five-star resort located in Dubai, and the upcoming contract will enhance district cooling facilities in the fourth phase of the resort, said Empower officials.
The contract is also part of a larger project that Empower is engaged with the Jumeirah Group, which includes a 30,000 refrigeration tonne (RT) retrofit across several properties such as the Jumeirah Emirates Towers and the Madinat Jumeirah. Comprehensive retrofitting plans for the group?s properties include the construction of a three kilometre-long network of chilled water pipes for the Burj Al Arab, Jumeirah Beach Hotel, Emirates Academy of Hospitality Management and Madinat Jumeirah hotels such as Al Qasr, Mina A?Salam and Dar Al Masyaf.
The first delivery took place in January 2015 for the Jumeirah Emirates Towers, and another 4,500 RT across Phase 4 of Madinat Jumeirah will come online by the beginning of Q4 2015, confirmed Empower officials.
Empower CEO Ahmad Bin Shafar said, ?With wide-ranging culinary options, unique retail offerings and world-class hospitality, the Madinat Jumeirah has built an identity based on providing the best to visitors from Dubai and beyond. As a company that provides district cooling services to more than 70 hotels across the emirate, Empower has the experience and technical expertise to take the services offered by this iconic development to the next level.?
In addition to retrofitting plans, construction plans are also expected to include a Non Destructive Road Crossing (NDRC) system to ensure minimal disturbance to the daily flow of traffic in the area. As Empower?s district cooling technologies consume up to 50 per cent less energy compared to traditional air-cooling systems, the Madinat Jumeirah is expected to incur significant cost savings.