The second International Water Summit (IWS), hosted by Masdar and in partnership with Abu Dhabi Water & Electricity Authority (ADWEA), has announced the participation of over 77 speakers and experts from 19 countries for its 2014 conference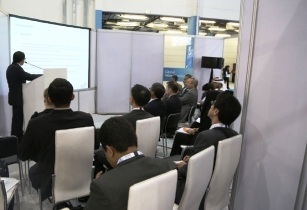 The inaugural IWS in January 2013 was attended by over 4,700 attendees from 75 countries. (Image source: IWS)
The conference aims at addressing key challenges and solutions facing the arid regions in integrated water resource management, renewable energy desalination, successful strategies for water re-use, optimizing water production, water security issues, and water-energy nexus.
To be held in 20-22 January 2014 at Abu Dhabi National Exhibition Centre (ADNEC), the conference will highlight case studies and host best practice sharing sessions from different countries like Japan, Singapore, US, Australia, UAE and Saudi Arabia, according to the event organisers.
IWS Exhibition & Conference, part of Abu Dhabi Sustainability Week, will bring together over 5,000 policy and business leaders, scientists, academia, innovators and entrepreneurs in a collaborative environment to solve water sustainability challenges in arid regions.
The IWS 2014 conference programme will feature some of the key local and international water sustainability experts such as Abdulla Saif Al Nuaimi, director general of ADWEA; Razan Khalifa Al Mubarak, secretary general, Environment Agency Abu Dhabi (EAD); Abdullah Abdulaziz Al-AlShaikh, president of International Desalination Association; Peter H. Gleick, president of Pacific Institute, USA; Adrian Sym, executive director, Alliance for Water Stewardship, Germany, among others.
Borja Blanco, senior V-P of Desalination, Energy Recovery in the US, said, ?IWS 2014 is a must attend event because it provides a forum for leaders and water professionals to cross-pollinate ideas and learn from each other. Being located at one of the epicenter of water scarcity, the event pays homage to the importance of water in our lives and for our global economy.?
Malcolm Haddock, planning and forecasting manager, Asset Division (ADSSC), UAE, added that IWS and other similar events bring together the best ?water-brains? in one place to share knowledge and experience.
?Within our daily jobs we do not often get the opportunity to learn about and discuss solutions that have been successful in other similar arid regions,? he added.
The programme would also provide companies such as utilities, contractors and MEP consultants an opportunity to be introduced to the latest cutting edge technology; giving businesses an opportunity to adopt the best technology.
GhassanEjjeh, senior vice-president at Belgium?s Besix Group, noted, ?Abu Dhabi with initiatives like Masdar, and a big user of latest technologies in water and power productions and located in a region that is the biggest user of desalinated water can offer a unique opportunity to acquaint oneself with the best products and practices in these fields.?
The inaugural IWS in January 2013, hosted by Masdar with the strategic partnership of ADWEA, was attended by over 4,700 attendees from 75 countries.