UAE-based Metito has been awarded a US$25mn contract to provide water and wastewater solutions for an upcoming 650 MW thermal power plant in Suez, Egypt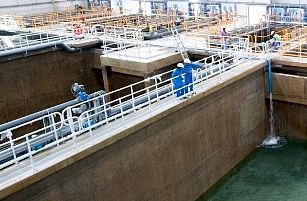 Since 2004, Metito has implemented its water treatment solutions in more than 10 EEHC projects. (Image source: Metito)
According to Zawya, Metito will install water and wastewater treatment systems at the plant to help produce demineralised water, which will be used for operating high pressure boilers, condensate polishing units, for hypochlorite generation and in chemical injection systems.
Metito will also establish a wastewater treatment plant and a water/oil separation system at the project site.
The project has been scheduled for completion in 2016.
Egypt's minister of electricity and energy, Ahmed Emam and Metito Africa managing director Karim Madwar signed the agreement with East Delta Electricity Production Company (EDEPC) chief executive officer, Hamdy Ibrahim.
The signing ceremony was also attended by Egyptian Electricity Holding Company (EEHC) chief executive officer, Gaber El-Desoky and the PGESCo team, who have been developing the thermal power plant project.
Madwar said, ?We are very proud to be part of Egypt's new development plan by implementing this significant project. We will introduce the Ultra Filtration technology in Egypt, which will improve the quality of treated water in other sites including Damitta, Banha and North Giza. It will also help improve the efficiency of power supply across the country.?
Since 2004, Metito has implemented water treatment solutions in more than 10 EEHC projects, which include the Nubaria, El Kuraymat, Tebbin and Cairo West Power plants.
READ MORE...
Metito to develop sewage treatment solutions for ADNOC?s Ruwais Housing Complex