Oman Power and Water Procurement Company (OPWP) has signed agreements with an ACWA Power-led consortium with Veolia and DIDIC, a move that aims to establish the Salalah Independent Water Project (IWP)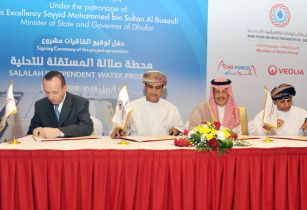 The project is the first independent water desalination procurement in the governorate of Dhofar. (Image source: ACWA Power)
The plant, set to have a capacity to generate 25mn gallons per day of desalinated water using reverse osmosis technology, is procured by Oman Power and Water Procurement Company SAOC (OPWP). The project is seen vital in meeting Dhofar region?s increasing demand for water, which is expected to be at an average of six per cent per annum in the next seven years.
The engineering, procurement and construction of the plant will be handled by a consortium of Fisia Italimpianti SpA and Abeinsa Infraestructuras Medioambiente SA. The operations and maintenance of the plant will be undertaken by a consortium led by Veolia Middle East with NOMAC Oman and DIDIC.
Dhofar Desalination Company SAOC, the project company established for the execution of this project, will be owned by ACWA Power, Veolia Middle East and Dhofar International Development & Investment Holding Co SAOG (DIDIC).
Speaking about the water development project, Yaqoob Bin Saif Al Kiyumi, CEO of OPWP, said, ?This project is considered as the first standalone water desalination project in the governorate of Dhofar and would positively contribute to security of water supply in light of urbanisation and ambitious projects that are implemented in various sectors in the governorate.?
Al Kiyumi further added that the total cost of the project is estimated to be more than US$155.85mn.
Rajit Nanda, chief investments officer at ACWA Power, noted, ?The Salalah IWP project will play a key role in meeting the increasing demand for water in the sultanate. This significant milestone will support Oman?s infrastructure in line with the sultanate?s efforts to reduce reliance on groundwater resources and maximise the use of local resources.?