Saudi Arabia?s Saline Water Conversion Corporation (SWCC) has joined hand with DuPont Sustainable Solutions (DSS) to enhance the kingdom?s desalination facilities, by improving the operational excellence and safety management processes at SWCC to ensure sustainable water supply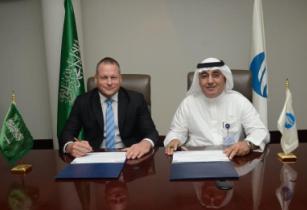 Johan van der Westhuyzen, regional director for DSS ? Turkey, Middle East and sub-Saharan Africa, and HE Ali Al-Hazmi, governor of SWCC. (Image source: SWCC)
SWCC, a Saudi Arabian government corporation, is currently responsible for around 70 per cent of the entire production of desalinated water in the kingdom.
The initiative is a part of SWCC?s aspirations to privatise and align with Saudi Vision 2030.
Ali Al-Hazmi, governor of SWCC, said, ?Every activity taking place at SWCC now is to prepare for the privatisation of the company. We want to create an environment that will allow SWCC to compete internationally, so that, ultimately, we have a sustainable business that the people of SWCC and Saudi Arabia can benefit from.?
?DuPont?s experience in implementing operational improvement initiatives at their own facilities, and in the kingdom, is an integral part of our improvement process,? he added.
This initiative is aimed at strengthening the risk management and service excellence at SWCC that will enable the company to produce water in a more cost-effective way.
Jean-Paul Sacy, senior manager at DSS, also stated, ?DuPont will play a key role in driving change through the SWCC organisation. We are looking forward to progressively developing and empowering the SWCC team to drive continuous improvement into the future.?
DSS is a subsidiary of DuPont, and a leading provider of world-class operations management solutions to help organisations transform and optimise their processes, technologies and capabilities, with an aim to maximise productivity, reliability and cost optimisation.
Johan van der Westhuyzen, regional director for DSS ? Turkey, Middle East and sub-Saharan Africa, added that SWCC will get support from DuPont?s partners in accomplishing this program. Emerson will provide support in automation and reliability, Riventa in water transmission and pumps and GrahamTek in core desalination processes and technological developments.
As per the partnership programme, DSS and its partners will start functioning at some of SWCC?s biggest facilities like plants, transmission lines and headquarters.