Veolia Water Technologies and Dubai Municipality have jointly commissioned the Jebel Ali Hazardous Waste Treatment Facility, which is set to treat 600 cu/m of hazardous liquid waste per day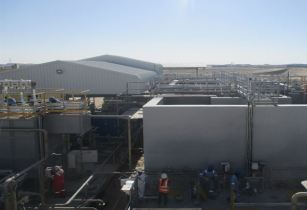 The hazardous liquid waste treatment plant is set to treat 600 cu/m per day of hazardous liquid waste. (Image source: Veolia)
?Dubai is a rapidly booming market and the fast pace of urbanisation exponentially increases pollutants in the environment. It is critical for governments and organisations to have a sustainable and mature waste management system,? said Thierry Froment, COO of Veolia Water Technologies, Middle East.
The new plant aims to treat wastewater that is polluted by industrial wastewater, oils, heavy metals and acidic and alkaline waste. It has the daily capacity to treat 600 cu/m of hazardous fluids ? a volume equivalent to 8,000 full household bathtubs ? which will be transported to the plant by dozens of tankers trucks.
The facility treats wastewater using appropriate process lines in dedicated plants based on their chemical composition and origin. With the ability to handle the variation in flow and load, the centre also provides tertiary treatment using reverse osmosis (RO) system, enabling Dubai Municipality to reuse almost 75 per cent of the treated wastewater for irrigation.
?The reject water from RO is sent to evaporation ponds to evaporate the waste water which makes the plant zero liquid discharge,? said Veolia.
Veolia Water Technologies is a subsidiary of Veolia, French multinational environmental services company in areas of water management, waste management, transport and energy services.
In support of Dubai Integrated Waste Management Master Plan 2030, which aims to drive effective sustainable waste management, Dubai Municipality?s waste management department selected Veolia Water Technologies in June 2016, to complete the supply, installation and commissioning of the treatment facility.
The initiative is in line with Dubai Municipality?s commitment in building a sustainable future for the emirate and its residents while striving to use resources in an efficient way, according to Abdul Majeed Saifaie, director of waste management department at Dubai Municipality.
Veolia Water Technologies? waste management technologies include PH adjustment, Multiflo, DAF, biological treatment, filtration and UF and RO. The company adheres to Dubai Municipality's environmental impact assessment certification, which is in compliance with ensuring the health, safety and environmental regulations in the region.