Egyptian construction and engineering company Orascom Construction has expanded its Manitowoc fleet with the order of 24 new Grove rough-terrain cranes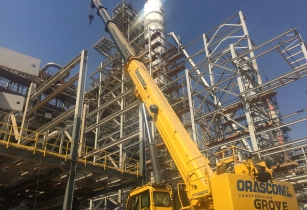 The new machines include ten Grove RT650Es, six RT765E-2 models, six RT890E models and two RT9130E-2s. (Image Source: Orascom)
The sale was finalised at the end of 2015. The company is a sister concern of Orascom Trading, Manitowoc?s main distributor in Egypt for Grove mobile cranes. The cranes in this order include ten Grove RT650Es, six RT765E-2 models, six RT890E models and two RT9130E-2s. The majority of new purchases have been sent to work at power plants and oil refineries.
?We work to tight schedules on many different projects so we needed the best cranes on the market,? said Mamdouh Fahmy, equipment director at Orascom Construction. ?The main reason we selected these Grove rough-terrain cranes was because they are designed to handle the tough desert conditions found on job sites and provide excellent manoeuvrability when working in confined spaces.?
The 50-tonne capacity Grove RT650E rough terrain crane has a four-section main boom which extends to 32 metres with optimal fixed and telescoping boom extensions, while the RT765E-2 has a 60-tonne capacity with a 33.5 metres main boom. The RT890E can handle lifts of up to 80 tonnes, while the RT9130E-2 is one of the largest rough terrain crane with a maximum capacity of 120 tonnes with a 48.8 metres five-section full-power telescoping main boom.
Orascom Construction is primarily focused on infrastructure, industrial and high-end commercial projects around the world. Founded in 1950, the company has grown from a small family-run business to be one of the largest construction companies in the world.