Brady presents durable cable & component identification solutions that help in saving time and increasing productivity, especially during emergencies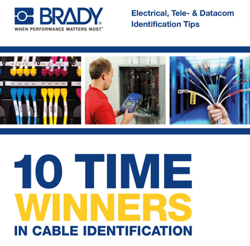 Brady has released a list of 10 time winners and wasters in cable and component identification. (Image Source: Brady)
Cable and component identification labels are great tools to keep power, network, voice/data cables and components organised and running effectively. They help to quickly recognise which cable needs checking during troubleshooting and enable better time management.
Brady offers fast label printers that need only a few seconds to print the identification label. Built to resist dust, moisture and the occasional bump, these reliable printers help to quickly identify any cable or component with durable identification labels, available in a wide range of label types, sizes and colours.
The company offers a wide variety of labels and in varied sizes and materials to suit the consumer needs. When it comes to cable and component labels, it is vital that they should stick, stay attached and remain legible. Few things seem more agonising than watching the last label fall to the floor when opening an electrical cabinet during a business emergency. Brady invests heavily to continuously develop labels, inks and adhesives that really stick and remain legible, even in demanding environments.
Brady has recently released a list of 10 time winners and wasters in cable and component identification.
Download the free document here!