Volvo Construction Equipment has entered an integration agreement with Trimble to enable the design of a Trimble 3D machine control solution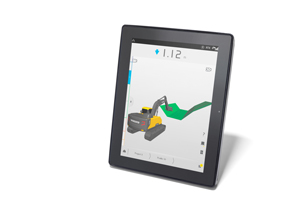 Volvo Dig Assist 2D machine control system. (Image source: Volvo)
Trimble made the announcement at the 31st edition of bauma being held in Munich, Germany and which is drawing to a close this week.
The new solution will be featured on Volvo Dig Assist 2D machine control on Volvo excavators, stated the firm.
?The solution that we are developing will provide our customers a world class combination of Volvo premium machine technology and Trimble Connected Site technologies that include geometric site data,? said Niels Haverkorn, Vice President of Business Platform Solutions at Volvo.
According to Trimble, its newly developed technology enables field and mobile workers in businesses and government become more efficient. Solutions are focused on applications requiring position or location, such as surveying, construction, agriculture, fleet and asset management, public safety and mapping, the firm noted.
"We are very pleased to work with Volvo on a machine control solution integrating the best of what both companies have to offer," said Bryn Fosburgh, Vice President of Trimble Engineering and Construction.
"Contractors are seeking new ways to improve competitiveness, efficiency and productivity. Tightly integrating Trimble solutions with Volvo allows our mutual customers to more easily leverage construction technology in their business," added Fosburgh.