Caterpillar Logistics Services, Inc. (Cat Logistics), a wholly-owned subsidiary of Caterpillar Inc., has started construction work on a new regional parts distribution centre in Jafza.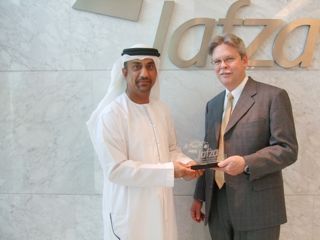 Ibrahim Mohammed Al Janahi, Chief Commercial Officer.
The 450,000 sqf facility, known as the Middle East Distribution Centre, will strengthen Cat Logistics' primary after-market parts support network in the Middle East and Africa region.
Between 100 and 120 people will be employed at the Middle East Distribution Centre, which is being developed as part of an ongoing plan to expand and enhance the Cat Parts distribution network in Europe, Africa and the Middle East (EAME). Once operational, it will increase total warehouse capacity of the EAME network.
"The new Middle East Distribution Center is an important part of Caterpillar's overall plan to develop the global Cat Parts distribution network further and get parts to dealers and customers faster," said Steve Larson, Vice President of Caterpillar Inc., Chairman and President of Caterpillar Logistics Services, Inc.
"We are very pleased to get construction of this new facility underway in Jafza, which we believe is ideally located for our business. It will improve parts availability in the region, contributing to high levels of machine uptime, which is critically important to our customers," Larson added.
"Caterpillar Logistics has reinforced their vision and trust in us and Dubai as the region's premier business and logistics hub. We congratulate and assure them of our full support and extend our best wishes for their further success and growth in the region," said