Close to US$613bn worth of construction projects are expected to be completed in Saudi Arabia over the next five years, according to a report from The Big 5 Saudi 2013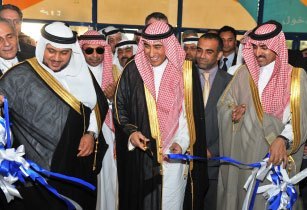 The Big 5 Saudi is expected see significant participation from international companies looking to capitalise on opportunities within the Kingdom?s construction market. (Image source: The Big 5 Saudi)
The building and construction show is taking place until 12 March and has seen significant participation from international companies looking to capitalise on opportunities within the Kingdom?s construction market.
Held under the patronage of Jeddah municipality mayor, Hani Mohammad Aburas, The Big 5 Saudi has been taking place for the third consecutive year at Jeddah Centre for Forums and Events.
The commissioned report, Saudi Construction Market: Unveil Opportunities Ahead, revealed that power and water, and real estate represented the most significant sectors of current construction in the Kingdom, with 32.9 per cent and 32.2 per cent of the total respectively.
Andy White, group event director for Big 5 organisers dmg::events, said, ?We launched the Saudi Arabian event in 2011 with unprecedented success and have seen consistent year-on-year growth with international companies representing a majority share of our exhibitors.
?We see a real interest from the international market, with many looking to find out more about the market, key trends as well as present their products and services to potential buyers,? he added.
White added that in response to the ongoing demand, several new project announcements would solidify Saudi Arabia?s influence on the construction business in the region and Big 5 Saudi had provided an opportunity for local buyers and worldwide suppliers to come together and do business.
This year, the event has hosted more than 550 exhibitors from 36 countries, as well as a series of certified educational workshops.