The sixth World Future Energy Summit (WFES) is set to return to Abu Dhabi this month as the centrepiece of the emirate's Sustainability Week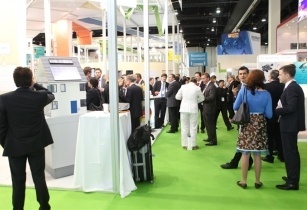 Delegates at the 2012 edition of WFES, held in the Abu Dhabi National Exhibition Centre. (Image source: Reed Exhibitions Middle East)
Hosted by Masdar, WFES will once again bring together investors, project developers and innovators to enable firm progress on developing the infrastructure needed to produce more power for urban and rural areas from renewable sources and lessen the environmental impact of economic growth.
The event will take place during Abu Dhabi Sustainability Week, running from 13 January, which is expected to draw 30,000 people to the UAE capital, including world leaders, official government delegations, business executives, academics, scientists and innovators.
In addition to more than 400 individual exhibitors, 20 countries have committed to setting up national pavilions at WFES 2013 to showcase their country's innovations including Japan, USA, Russia, Germany, Norway, France, Italy, India, China, Korea and much more.
Leading political figures and business heads from across China, Europe and India, will be joined by a number of key regional energy ministers and professionals who will delivering their thoughts on the state of the region's energy industry at the conference.
Among them will be Moroccan Minister for Energy, Mines, Water and Environment Fouad Douiri, Qatar's Minister of Energy and Industry Dr Mohammed Bin Saleh Al Sada, and Dr Khaled Al Sulaiman, vice-president for Renewable Energy at the King Abdullah City of Atomic and Renewable Energy in Saudi Arabia.
Naji El Haddad, show director for the World Future Energy Summit, said he had witnessed growing participation in the summit from the region's leading oil and gas companies over the years.
"In 2008, there was a handful of what we would consider to be energy companies, those directly involved in the oil and gas sector," stated El Haddad.
"Contrast this with next year's event, and the increase in participation is marked. We are seeing the energy giants increasingly contribute to the advancement of renewable energy and energy efficiency.
"Regional leaders like ADNOC, Dolphin Energy and Qatar Petroleum have all committed to participating at WFES 2013," he added.
El Haddad believes that WFES 2013 will highlight the role of existing energy companies in scaling up the intake of more renewable energy and emphasise the energy transformation that is changing the way existing energy companies are doing business.
"A number of sessions at WFES 2013 will address this issue and we will hear many encouraging examples of new business models centred on renewable energy.
"There will also be intense discussions about the types of policy or regulatory support mechanisms that could help energy companies proactively lead the transition to renewable energy," he remarked.
Other attractions
WFES 2013 will also be the host venue for the biennial International Renewable Energy Conference in Abu Dhabi (ADIREC). ADSW will open with the third session of the Assembly of the International Renewable Energy Agency (IRENA).
Dedicated exclusively to the renewable energy sector, IREC is a high-level political conference series hosted by alternate governments every two years and convened by REN21. IREC acts as a common platform for government, private sector and civil society leaders to jointly address the goal of advancing renewable energy.
The keynote speakers in 2013 will include the Chinese Premier Wen Jiabao, Prime Minister of South Korea Kim Hwang-Sik and the Secretary General of the United Nations, Ban Ki-Moon.
The Project and Finance Village at WFES 2013 will be a venue dedicated to this task, showcasing renewable energy projects from around the Middle East, Africa and the world.
The Project & Finance Village was introduced in 2011, and this year's Village at WFES 2012 attracted 27 projects worth more than US$5bn from the Middle East, India, North Africa and other regions, providing an influential platform for project developers, entrepreneurs, banks and financiers to connect.
El Haddad expects 40 projects to be exhibited during next January's Project & Finance Village under the theme 'Powering the Future of Cleantech and Renewable Energy Investments'.