EXCON 2011, the third largest international? construction equipment and technology trade fair in Asia, organized by the Confederation of Indian Industry (CII), was inaugurated by Dr. C P Joshi, Minister of Road Transport and Highways, Government of India, today (23rd November).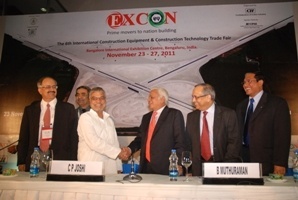 EXCON 2011 was Inaugurated by Dr C P Joshi, Minister of Road Transport and Highways, Government of India.
The five day exhibition, which will run till November 27, is laid out at a sprawling 20,00,000 Sq.mts of exhibition area (an increase from 1,40,000 sq mtrs in 2009) at Bangalore International Exhibition Centre, which houses in-door exhibition halls covering 40,000 Sq.mts.
Chief guest address
Delivering the Chief Guest Address, Dr. C P Joshi said that India has emerged as the second largest country in the world in attracting private investment in infrastructure development. India would continue to attract foreign participation as the country has an open and transparent bidding process, standards for various documents and agreements, and a well defined dispute resolution mechanism in highways.
Excon 2011 has participation from more than 634 exhibitors including 200 international exhibitors and country pavilions from China, Finland, Germany, Italy, Japan, South Korea, Spain, Turkey and has attracted over 35,000 business visitors, with 400 new product launches expected.
Live demonstrations
The event has live demonstrations of equipments for earthmoving and construction, lifting, material handling, concrete making, hydraulics and pneumatics, drills, power tools & piling, electronics, controls and instrumentation, asphalt, compactors, compressors and generators besides components, accessories and consumables.
Exhibitors of Original Equipment Manufacturers offer "on the ground" experience for customers, most of who have come from various parts of India and abroad. The visitors have the opportunity to benchmark product features of different makes, interact about their requirements with technical heads, and negotiate deals with chief executives.
Conferences and presentations
The two-day IECIAL conferences on the earthmoving and construction Industry, held in association with CII, will be?a major highlight of Excon 2011. Volvo Construction Equipment will be conducting a press conference and a presentation on Volvo's business strategy in India, new products unveiled at the show and regional trends in the Asian markets.?