The 38th Middle East Electricity (MEE) came to a conclusion on 19 February 2013 in Dubai, with companies within the global energy industry using the platform as a launch pad for their latest products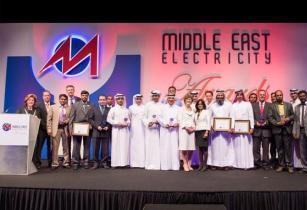 The three-day event was held in tandem with the Solar Middle East exhibition. (Image source: Middle East Electricity)
The three-day event, which was held in tandem with the inaugural Solar Middle East exhibition, opened on 17 February 2013 at the Dubai International Convention and Exhibition Centre, attracting 35 per cent more visitors than in 2012 for the first two days.
Some of the winners of the MEE Awards were Society of Engineers ? UAE (CSR initiative); RasLaffan Power (HSE project or initiative); Al Fanar Constructions (power project); Bahri & Mazroei Trading (lighting project); QPower QSC (power and water utility); ALSA Solar Systems and Dubai Municipality (best innovation/technology); and Trojan Battery and Incon General Contracting (solar project).
Special awardees were Dubai Municipality (green energy partner) and Al Futtaim Auto and Machinery (FAMCO) (best campaign).
Among exhibitors capitalising on the surge of visitor numbers was Mohamed Abdulrahman Al-Bahar, the official Caterpillar (CAT) dealer and service provider for CAT construction equipment and power systems in the Gulf Co-operation Council (GCC), which introduced the brand new C175 20-cylinder diesel powered generator set. The 25,000kg machine produces up to four megawatts of power, delivering the highest power output in comparison to any single high-speed diesel generator set available in the market today.
Andrew Edensor, Europe, Africa and Middle East territory manager for Caterpillar Power Systems, said, "Keeping this in mind at MEE, Al Bahar and Caterpillar have introduced the low-maintenance C175 diesel generator set which also provides the highest power density in current high-speed generator sets."
The USA-based Cummins Power Generations also had a strong presence at MEE, with the launch of its latest range of AvK 610 low-voltage power generator series.
Other exhibitors included FAMCO, GEMTA General Electronics, EPRO Gallspach GmBh, Boddingtons Electrical, Citel 2 CP and Benedict.
Held under the patronage of H.H. Sheikh Maktoum bin Mohammed bin Rashid Al Maktoum, MEE attracted a record 1,100 exhibitors from 60 countries, hosting 17 dedicated country pavilions.
MEE and Solar Middle East would return in 2014, taking place from 11-13 February at the Dubai International Exhibition and Convention Centre.