The Middle East has emerged a major player in the global plastics market owing to the twin benefits of low raw material and feedstock prices, and proximity to the Asian market
This was evident in the good response to the recently concluded Plastivision Arabia and ArabiaMold trade events, which received 4,763 visitors from 66 countries in their very first editions.
Held in Sharjah from May 14-17, more than 150 exhibitors displayed raw materials and machinery aimed at segments that included plastic processing, injection molding, thermoforming, packaging, industrial users, construction, infrastructure, automobile and telecommunication.
India left a positive impact at Plastivision Arabia, with nearly half of the exhibitors from the country.
"I am very pleased with the exhibition on several counts,"?said Aschulman Middle East senior sales manager, Najib El Khouri, who cited the?presence of quality visitors, visitor representation from across the region and good business leads as key components that made the show a success.
"All of these constituted an interesting start for my company to strengthen our presence in the Arab World," he added.?
To encourage domestic plastic processing, many countries in the region plan to start cluster programmes to allow plastics processors establish polymer parks, which will cater to the domestic plastics conversion industry, and increase plastics output.
Continuous government support has seen increased foreign investments and higher efficiency achieved through the integration of petrochemical operations with refinery operations.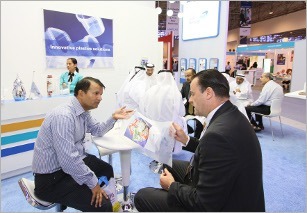 "Regional governments and industry bodies are creating a conductive climate for the growth of the plastics industry,"?said Expo Centre Sharjah director-general Saif Mohammed Al Midfa.
"A flourishing upstream industry has succeeded in laying a strong foundation for the downstream petrochemical industry, while planned projects will further promote the plastics production in the region."
According to a report by energy intelligence company GlobalData, the region has been seeking a gradual move away from its dependency on oil and gas production to diversify its economy and create a positive environment for the development of its plastics industry.