Brady has launched a new thermal transfer label printer, the BMP 61, designed for quick and efficient identification of wires, cables and components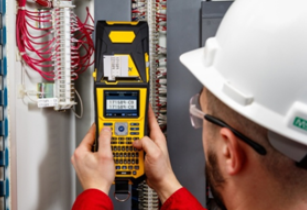 The BMP 61 is wifi-enabled and can be operated using a smart phone. (Image Source: Brady)
According to the company, the BMP 61 Label Printer is portable, fast and owing to its wireless connectivity and wide range of durable labels, it can handle multiple identification challenges.
Designed to be a durable partner in the field, the printer is made from high performance materials that can handle the toughest industrial identification applications.
The BMP 61 is available in a wifi-enabled version compatible with the LabelMark label creation software and Brady mobile apps. This allows users to create or send label designs with a smart phone to the BMP61 for extremely fast and easy label creation on the job.
Alternatively, the printer?s USB-ports can be used to quickly copy large lists of label designs from a computer. The printer also allows users to review the label before printing on the large colour touchscreen to avoid errors and material loss. It has on-screen indicators to verify ink levels and the number of labels remaining.
According to the company, the BMP 61 is compatible with 600 labels and ribbons. Each combination represents a durable identification solution designed to endure extreme contexts and to keep cables and components identified in the most demanding industries. BMP61 can print sleeves, self-laminating labels, raised profile labels, tags and other identification solutions in a vast range of materials, sizes and colours up to 50.80 mm wide.
Watch the printer in action and download the free Cable ID Guide!