The global industrial and safety printing solutions provider Brady has introduced BSP41 Wire and Panel Identification Printer, aiming to more efficiently identifying electrical panels while printing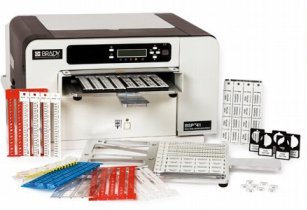 Brady?s BSP41 Wire and Panel Identification Printer aims to print rigid identification tags for all major terminal block and component brands. (Image source: Brady)
According to the company, the new printer is set to print rigid identification tags for all major terminal block and component brands, thus allowing the user an insight how an electrical panel is connected for future maintenance and improvement projects.
Identify every terminal block
With BSP41, panel builders do not need a rigid tag printer per brand they are using. In addition, Brady provides a list of terminal block and component brands that have been tested for compatibility with the new BSP41.
Identify the panel completely
The BSP41 also aims to identify other elements in an electrical panel including push buttons, nameplates and cables. With BSP41, almost any electrical panel can be identified completely, even if terminal blocks and components originate from various brands.
Durable tags for a wide range of applications
Brady provides rigid tags compatible with the terminal blocks from major brands. The BSP41 also prints other durable, rigid tags to cover a number of other identification needs for panel builders, electrical contractors, installers, machine builders and automotive, rail vehicle and ship constructors. All rigid tags are compliant with UL94V0 flammability and DIN/VDE 0472, part 815 halogen free.
Brady will exhibit its range of products for wire identification, labelling materials and tools for wire and cable marking in the electrical, electronic and telecommunication markets at hall three - 3F29 in the Middle East Electricity, which will be held in Dubai from 6 ? 8 March 2018.
Watch the BSP41 in action and Get the brochure!