Preparations for the first-phase opening of Qatar's new Hamad International Airport have got underway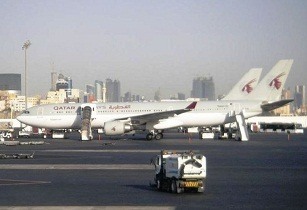 Doha will have a dual airport operation until second half of 2013. (Image source: Gryffindor/Wikimedia Commons)
The airport will be operated by Qatar Airways and the first phase of the US$15.5bn project, set to open on 1 April 2013, will involve 12 international airlines, including low-cost carriers.
Qatar Airways will move its entire operations to Hamad International Airport in the second half of 2013.
Akbar Al Baker, CEO of Qatar Airways, said, ?Qatar Airways, as the operator of the new Hamad International Airport and main user of the facility, looks forward to welcoming airlines and passengers to the airport in just a few weeks? time opening up a new era for our country.?
Until recently, the airport was known as New Doha International Airport.
Doha will have a dual airport operation until second half of 2013.
Abdul Aziz Al Noiami, Qatar?s civil aviation authority (QCAA) chairman, said, ?Hamad International Airport will truly be a global showpiece that Qatar will justifiably be proud of.
?2005 seems like only yesterday when the foundation stone was laid for work to start on the new airport project. Eight years on and we are just weeks away from the latest chapter in the airport?s history with the start of operations.
?A new workplace and stunning architectural masterpiece will enhance the skyline of Doha providing new surroundings for airport employees and the travelling public from around the world,? Al Noiami added.
Architectural firm HOK designed the 600,000 sq m, three-story, main passenger terminal, and five concourses.
Hamad International Airport will initially handle 28mn passengers, increasing to 50mn after 2015.