Oman will take a major step in establishing its solar energy industry when the government launches the competitive process for the procurement of a large-scale solar power project during the first half of next year.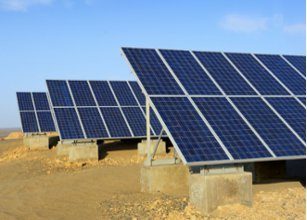 A boost for Oman's solar industry
The task of managing the implementation of the scheme has fallen to the state-owned Oman Power and Water Procurement Company (OPWP). According to OPWP Chief Executive Officer Bob Whitelaw, the competitive process for the utility-scale Solar Power Project will be similar to an Independent Power Project (IPP).
Speaking at the first Omani-Spanish Business Forum Whitelaw said the procurement process will be governed by the existing legislative framework which is backed by a stated government policy to procure capacity based on solar technology.
A detailed study set up by the Public Authority for Electricity and Water (PAEW) last December confirmed the feasibility of a privately funded large-scale solar power scheme in Oman, which would be sized at between 50 and 200 MW.
The study also identified a shortlist of four possible locations -- Adam, Manah, Sohar and Ibri -- selected on the basis of the levels of solar insolation they enjoy, topography, land area requirements, and proximity to the Main Interconnected System (MIS).