3D construction printing company 3DXB participated in the Arab Housing and Community Development Forum 2023 in Abu Dhabi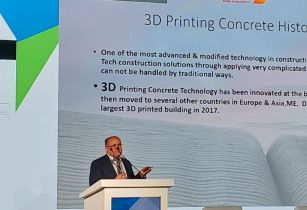 Basel Khalid Mohammed, technical & factory manager of 3DXB Group. (Image source: 3DXB)
This specialised event, with the theme "Projecting the Future of Housing and Sustainable Community Development," brought together important business executives, stakeholders, and experts to discuss the advancement of sustainable housing development in the Arab region.
During the forum, 3DXB Group engaged in a dialogue on construction innovation and affordability by participating in various discussions alongside industry peers and experts.
Basel Khalid Mohammed, technical & factory manager of 3DXB Group, participated in a panel discussion titled "Utilising modular construction, 3D Printing, and precast to reduce construction cost and enable housing affordability." In this conversation, he emphasised the crucial contributions of precast techniques, 3D printing, and modular building to cost-effectiveness, scalability, and quick project completion. The topic of debate was how to use controlled environment fabrication to improve worker safety, reduce building costs, fill demand gaps, and end weather-related delays.
Mohammed discussed waste reduction in a panel discussion on "Improving construction operations, labour safety, and reducing costs through innovative technologies," highlighting how the accuracy of 3D printing could significantly reduce material wastage and make construction more environmentally friendly and economically viable. The use of aerial drone surveying, which has the potential to lower costs and increase data accuracy in construction projects, was another crucial topic. The shift to AI automation in construction operations was also investigated, with a focus on how automation might improve safety, expedite procedures, and lower labour costs.
Badar Rashid AlBlooshi, chairman, 3DXB Group, said, "3DXB Group's active involvement in the 'Arab Housing and Community Development Forum 2023' serves as a resounding testament to our unyielding dedication to advancing sustainability and innovation within the construction industry through 3D printing construction. Considering region-wide growth, including monumental projects and a remarkable market expansion, we acknowledge the critical importance of addressing the surging housing needs of our population. The forum provided an invaluable platform for us to collaborate with industry leaders and stakeholders, all driven by our shared vision of a 3D-printed sustainable housing future."