BBC Cellpack Electrical Products, a global company in cable accessories has extended its presence to the Middle East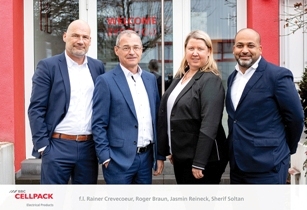 The company aims to be close to its customers in the GCC to support them with its application knowledge and competencies. (Image source: BBC Cellpack)
Quality is everything
For more than 50 years, BBC Cellpack Electrical Products has produced cable connection systems and accessories for low and medium voltage applications. This has given the company unique know­how, covering the entire range from preparation of raw materials, specification of cast resins and gels, creating the formulas for the plastics, to installation and packaging of cable accessories.
Sherif S Soltan, the managing director of operations commented, "I am honoured to represent the operation in the Middle East. The region is full of potential and we are here to provide the GCC with the latest possible technologies in cable accessories. I aim to position BBC Cellpack Electrical Products as a trusted consultant and reliable partner for our GCC clients."
Sherif added that cable accessories do not represent more than 2% of any project value. However, production or installation failure can cause huge disasters for multibillion projects. So, the company insists on delivery high quality products and solutions and continually provides training to its partners on the latest productive methods to ensure a clear reliability of the network. Jasmin Reineck, the CPO of BBC Cellpack Electrical Products said, "We spend a lot of resources in our product lifecycle management to make sure that our products are right, from the idea, throughout the technical feasibility and development phase with the ultimate goal of producing high quality products with improved product safety, reduced failures and covering the customer needs with the latest successfully tested solutions."
Rainer Crevecoeur, the CSO of BBC Cellpack Electrical Products, highlighted the importance of GCC operations to the company's global growth. "We are so proud of extending our business to the GCC countries. Through our presence in the region, we improve our supply chain by being closer to our clients on a day­to­day basis and ensure that our clients are satisfied by the quality and the services we provide to them," he said.
As a service provider of medium­voltage systems, original manufacturer of lowvoltage switchgear assemblies or cable distribution cabinets for local networks, supplying turnkey transformer stations and providing installations, BBC Cellpack's solutions are deployed to guarantee reliable and safe energy distribution.
Roger Braun, CEO of BBC Cellpack Electrical Products, confirmed, "We are experts in underground cable connections and aim to be close to our customers in the GCC region to support them with our application knowledge and competencies in the most professional way. Being closer to our customers also allows us to adapt faster to changing market requirements and improve constantly to remain the preferred supplier. With our work, we want to enable our customers to manage the challenges in the grid networks with environmentally friendly, easy to use and high­quality products."
As a reliable partner of energy supply and energy distribution companies, delivering to retail, wholesale and industry, the company's product quality ensures the supply performance in the distribution grid.