Demilec, Inc, a subsidiary of Huntsman Corporation and one of North America's leading manufacturers of open- and closed-cell spray polyurethane foam (SPF) insulation and coatings, has launched several spray foam insulation products for the Middle East market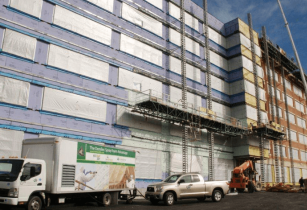 Price Chopper Building. (Image source: Demilec)
Additionally, the company has opened its Spray Foam Technical Application and Training Center in Dubai.
The Demilec technical application and training centre is located on the site of Huntsman?s polyurethanes systems house in Dubai, which will serve as the regional base for the Demilec business. The Huntsman systems house was opened earlier this week in the Jebel Ali Free Trade Zone.
During the centre?s opening, Demilec introduced several spray foam insulation products to the market, including Heatlok HFO Pro, Heatlok XT, Selection 500 and Agribalance. The technical and training centre features state-of-the-art equipment, including the Graco reactor system, and provides instruction in product capabilities and spray foam application techniques.
Demilec president Simon Baker said, ?The combination of Huntsman?s new systems house with Demilec?s new technology and training centre will enable Demilec to bring the same premium support and service we offer in North America to our customers in the Middle East.?
Recognized for unsurpassed quality and product performance supported by premium service, Demilec serves customers in residential, commercial, industrial and agricultural construction.