Ducab announced a record sales of US$0.9bn for 2010, representing a 51 per cent increase over the previous year and 47 per cent volume growth with full realisation of copper rod capacity during a press conference held in Dubai.
Going forward this year, despite the global economic downturn and a rise in copper prices, Ducab anticipates a further increase in volumes of about 15 per cent compared to 2010.
Ducab has seen a successful 2010 despite competitive margin pressures, with the company's local UAE market share maintained at between 33 and 50 per cent, depending on the cable segment.
Last year's record of US$0.9bn comprised cable and wire sales of US$0.5bn whilst the external sales of copper rod accounted for the balance US$0.3bn. Significant areas of growth included 22 per cent higher sales to Utilities and a 143 per cent increase in sales to the Oil, Gas and Petrochemical sector.
Ahmad Al Shaikh, Chairman of Ducab, attributed the company's success to expansion into new sectors and markets within the Middle East, Europe, Africa, and Asia, as well as the addition of eight new product ranges to the company's portfolio. Cost and efficiency improvement contributed too with savings of US$4.6mn achieved through operational efficiencies and cost optimisation initiatives.
In 2010 Ducab repaid, on the due dates, US$49.5mn and pre-paid US$27.2mn, representing 35 per cent of term finance obtained for such previous expansions. Ducab's shareholders equity has also increased by US$27.2mn by the end of 2010, besides a dividend payout of US$13.6mn.
Looking ahead to further expansion, Ahmad Al Shaikh highlighted Ducab HV, the US$136mn joint venture project with DEWA and ADWEA as 25 per cent partners, "This exciting project is nearing completion and will be the major addition to the product range this year; catapulting Ducab to the next level with Extra high voltage cable systems up to 400kV produced in a world class facility here in the UAE."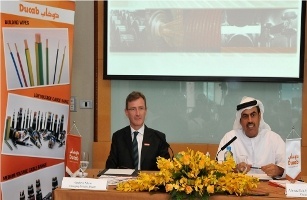 "Last year was a very challenging period worldwide for an industry such as ours, where real estate and construction are major drivers of demand, and the Middle East market was no exception," says Ahmad Al Shaikh.
"Fortunately, infrastructure projects and energy investment throughout the GCC have been counter-cyclical in this downturn and have provided some compensation for the construction slowdown. Ducab managed to grow despite the market condition and increased competition in the region."
Ducab also continues to invest in identifying Emirati talent for various functions across the business with significant progress made last year in training and development of young Emiratis.
"We will continue to focus on Ducab's traditional strengths of customer service and product quality, with the strong belief that such commitment to high quality and exceptional value will continue to drive the sale of Ducab cables and allied products across the region", Al Shaikh concluded.
Ducab cables & copper products are currently sold in over 40 countries worldwide across Middle East, Europe, Africa, and Far East in Asia. Approximately 65-70 per cent of Ducab's total sales are currently made within the UAE market.