Kenera has announced the signing of a technical cooperation and sales agreement with Clean Power Hydrogen Plc (?CPH2?) that will enable it to manufacture and supply patented Membrane-Free Electrolyser units for hydrogen production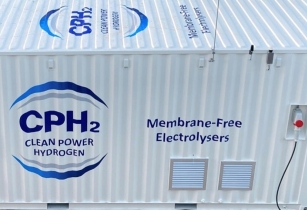 This agreement builds on the successful CPH2 IPO in February where Kenera was a cornerstone investor in the company. (Image source: Kenera)
This agreement builds on the successful CPH2 IPO in February where Kenera was a cornerstone investor in the company.
In support of Kenera?s strategy to expand in renewable energy markets, this ten year partnership brings together CPH2?s Membrane-Free Electrolyser technology and Kenera?s industry-leading manufacturing capabilities to supply hydrogen electrolysers across Europe and provides Kenera with an exclusive technology licence across the Middle East, including important markets such as Saudi Arabia and Oman.
The Membrane-Free Electrolyser is a disruptive technology in the hydrogen space. It has already experienced significant demand since entering the electrolyser market since it offers a cleaner, cost effective and more robust alternative to other existing technologies. The parties are targeting the first CPH2 electrolyser to be built in Germany from early 2023 by capitalising on the existing key skills, manufacturing competencies, and experience of Kenera and the wider KCA Deutag group.
Ally Hogg, head of commercial for Kenera, commented, "This collaboration follows our investment into this exciting and ambitious high growth hydrogen business. The relationship with CPH2 adds to our clean energy portfolio and we look forward to actively collaborating with their team as we expand our business in the energy transition space and create value for our stakeholders by delivering our innovative technological solutions, manufacturing and after-sales expertise.?
Jon Duffy, CEO of CPH2 said, ?This agreement is an important step in our journey to gain rapid scale. It also confirms our strategy to license the technology through an international network of partners that bring access to key geographies. In this case, through additional manufacturing capacity in Germany and by gaining access into the Middle East, which is a region that has some interesting giga-watt hydrogen projects in the pipeline.?