Masdar, one of the world?s leading renewable energy companies, and Hassan Allam Utilities, the investment and development arm of Hassan Allam Holding Group, have signed two Memorandums of Understanding with leading Egyptian state-backed organisations to cooperate on the development of green hydrogen production plants in the Suez Canal Economic Zone and on the Mediterranean coast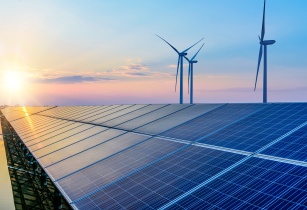 Egypt enjoys abundant solar and wind resources that allow generation of renewable power at a highly competitive cost ?a key enabler for green hydrogen production. (Image source: Adobe Stock)
Amr Allam and Hassan Allam, co-CEO of Hassan Allam Holding, were also in attendance, along with Mohamed Jameel Al Ramahi, CEO of Masdar. The Egyptian organisations concerned include the New and Renewable Energy Authority, the Egyptian Electricity Transmission Company, The Sovereign Fund of Egypt, and The General Authority for Suez Canal Economic Zone (SCZONE).
Mostafa Kamal Madbouly, prime minister of the Arab Republic of Egypt, expressed his happiness at this signing with Egypt?s brothers in the UAE, highlighting the directives of president Abdel Fattah El-Sisi, to strengthen and consolidate relations with the UAE in various sectors, so as to contribute to achieving the interests of the two nations. He stressed that the state is working to encourage investment in green energy projects, due to Egypt's potential to become an important pivotal and regional hub in this vital sector, which is expected to transform the global energy system during the upcoming period. These projects will also accelerate energy transition process in the region.
Hala El Said, minister of planning and Economic development and chairperson of The Sovereign Fund of Egypt, stressed that Egypt has abundant solar and wind energy resources that would provide a suitable location for renewable energy projects at a competitive cost. Along with its proximity to global markets that are looking to import green hydrogen, this will allow significant growth for this sector in the future, and the agreements are in line with "Egypt Vision 2030" and its sustainable development strategy.
Yehia Zaki, chairman of SCZONE, said, ?Today?s signing is the fifth of its kind for green fuel production projects inside Sokhna zone, as SCZONE has a distinctive location and pivotal ports overlooking the Red and the Mediterranean Sea. SCZONE is qualified to be a regional Hub for ship bunkering. All the companies now are conducting feasibility studies for the projects in detail to sign and announce the actual contracts in coinciding with the COP27 climate summit next November.?
Masdar and Hassan Allam Utilities see Egypt as a hub for green hydrogen production, targeting the bunkering market, export to Europe, and boosting local industry. Egypt enjoys abundant solar and wind resources that allow generation of renewable power at a highly competitive cost ?a key enabler for green hydrogen production.
Egypt is also located within close proximity to markets where demand for green hydrogen is expected to grow the most, providing robust opportunity for export. Driven by green hydrogen?s export potential, its ability to attract large-scale foreign direct investment and opportunities to contribute to the Government?s efforts to optimise generation costs and increase the share of renewables in the country?s energy mix to 42% by 2030, the Ministry of Electricity is currently revising its 2030 renewable energy strategy to include green hydrogen, and is developing a green hydrogen strategy, which is expected to be issued by October 2022.