Saudi Arabia has been identified as one of the top three countries in the Middle East and Africa in its readiness transitioning towards a digital economy, according to Cisco's 2019 Global Digital Readiness Index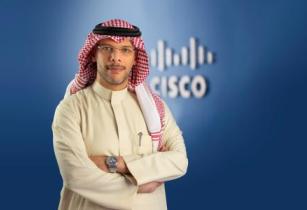 Salman Faqeeh, managing director of Cisco Saudi Arabia (Image source: Cisco)
Now in its second edition, the company?s report combines analysis from sources including the World Economic Forum, the World Bank and the United Nations to benchmark how well-positioned each of the 141 countries are in their preparedness for digitisation.
While traditional research models focusing primarily on technology adoption and penetration rates, Cisco believes that factors such as meeting a citizen?s basic needs, improving access to education and creating a thriving business environment are equally crucial in aiding a positive digital future.
Cisco?s Global Digital Readiness Index evaluates countries across seven components:
?Basic Needs? for a population to thrive (eg life expectancy, access to clean drinking water, reliable electricity, etc.)
?Business and Government Investment? private and public investment in innovation and technology
?Ease of Doing Business? infrastructure and policies needed to support business continuity
?Human Capital? a skilled workforce, able to support digital innovation
?Start-up Environment ? fostering innovation and facilitating the development of new businesses
?Technology Adoption ? demand for digital products and services, such as mobile penetration rate, internet usage, investment in cloud services and AI adoption
?Technology Infrastructure? the ecosystem available to enable connectivity and digital transformation, through elements including IoT and the Cloud
When measured across all seven components, Saudi Arabia places in the top three countries in the Middle East and Africa in terms of digital readiness.
For Business and Government Investment, Saudi Arabia is placed in 10th position regionally. As local entities continue to increase their investments in the creation and expansion of digital infrastructures, ongoing financial boosts and support will further propel the local economy.
When measured on Ease of Doing Business, the kingdom outranks the world average and is positioned in 8th place across the Middle East and Africa.
For Startup Environment, Saudi Arabia is positioned in 8th place when measured against neighbouring countries.
The kingdom?s ranking for Technology Adoption places it higher than the world average and in 5th position in the Middle East and Africa. Cisco?s Visual Networking Index (VNI) Forecast predicts 30 million Internet users in Saudi by 2022. By the same year, the company estimates a total of 194.2 million devices connected to the network. Much of this growth is expected to be driven by non-PC devices, with machine to machine (M2M) modules anticipated to grow at the fastest rate, followed by portable devices such as smartphones and tablets.
Lastly, Saudi Arabia?s Technology Infrastructure also outranks the world average and places firmly in 2nd position regionally ? the nation?s highest score across all criteria. With the establishment of the Authority for Data and Artificial Intelligence, modernization efforts are underway to transform this field further, while also considering responsible use and growth of disruptive technologies.