Saudi Arabia?s non-oil sector is set for a further boost as the kingdom?s economic reforms pay dividends and work begins on a raft of mega projects, according to a report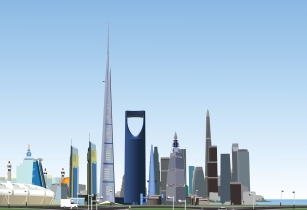 Mega projects such as the Jeddah Tower (to be completed in 2020) continue to boost Saudi Arabia?s non-oil diversification. (Image source: Adobe Stock)
Under the Vision 2030 plan, the country is looking to reduce its reliance on the energy industry and boost private sector business. Such reforms are paying off, with growth in the kingdom?s non-oil sector set for an additional ?pick up? going forward, according to a report by Bank of America Merrill Lynch.
?Authorities? ongoing fiscal reforms and possible one-off revenues are keeping non-oil revenues on track,? the bank?s regional economist Jean-Michel Saliba said.
Saliba added that the US$69bn deal in which oil giant Saudi Aramco plans to acquire petrochemicals firm SABIC from the Public Investment Fund (PIF), could further boost the non-oil sector.
?The likely ramp-up in budget expenditures and, in particular, off-budget capital spending after the completion of the SABIC-Aramco-PIF deal, suggest non-oil activity is likely to pick up going forward,? he added.
The completion of the SABIC deal and the subsequent financial boost for PIF, Saudi Arabia?s sovereign wealth fund, could help kickstart many of the kingdom?s planned mega-projects, the report added.
That could boost growth in non-oil GDP by two percentage points ?in the medium term? ? which would be almost double the 2.1 per cent rate at which non-oil GDP grew in 2018.
?The possible finalisation of the Saudi Aramco-SABIC-PIF deal could unlock US$69.1bn of financing to the PIF. This could support the first phase of mega-projects. Authorities suggest the transaction would close in 2020, implying the growth impact of PIF?s off-budget capital spending could start to be felt next year.?
Saudi Arabia achieved its first budget surplus since 2014 in Q1 2019, at about US$7.41bn, the country?s minister of finance said in late April.
The Bank of America Merrill Lynch said non-oil revenues stood at US$20.3bn in Q1 2019, a 46 per cent rise on the year-ago period.
But it cautioned that Saudi Arabia?s fiscal surplus is ?unlikely to last? later in the year.
?We expect the budgetary outcomes to deteriorate going forward, following the surprising (first quarter) fiscal surplus,? Saliba noted.
That surplus was attributed by Saliba to an increase in special dividends paid by Saudi Aramco to the government, along with seasonality and control of spending.
Government spending during the first quarter was also ?unsustainably low,? the bank added, another factor in the surplus.
?Spending is likely to increase in coming quarters, particularly given the seasonally low spending figures in the first quarters of the year.?