Iraq's cabinet has approved a US$692mn contract for the construction of a cement factory in southern Iraq, a government official said.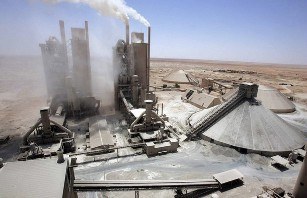 Image credit : aggregateresearch.com
The factory will be built in Diwaniya province, 150-km south of Baghdad, and will cover an area of about 185 acres, according to a statement from the office of government spokesman Ali Al-Dabbagh.
"(The cabinet) has given approval to award an investment licence to erect a cement factory in Diwaniya province to a (local) firm which is in a joint venture with an Italian firm for a total value of US$692mn," the statement said. Officials declined to give further details.
Iraq has some of the world's largest oil reserves and is opening itself up to foreign investors to help it rebuild after decades of war and economic isolation.
The government has set a target of US$30 billion for total investment this year, mostly in energy, housing and agriculture.
The National Investment Commission has previously put together an investment plan of 750 projects valued at US$600 billion to rebuild Iraq. Its five-year plan totals US$186 billion, of which US$86 billion is to come from foreign and local private investment.