Lafarge Emirates Cement opened its first distribution centre in the region, in cooperation with Al Saeed AL Zaabi General Trading.
The new centre in Mussaffah Industrial Area in Abu Dhabi was opened by Mr. Antoine Duclaux the Chief Executive Officer of Lafarge Emirates Cement in the presence of many strategic partners.
Mr. Antoine Duclaux said:" The new showroom of 250 / 350 sqm is located in Mussaffah Industrial Area and part of Lafarge's strategic plan to open distribution centres in the region. We are contributing in the construction's market in the UAE by offering quality products."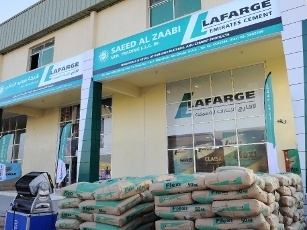 Mr. Adham El-Sharkawy, Commercial Director, Lafarge Emirates Cement added: "Presenting to the cement end users a new shopping experience by offering a full range of high quality cement products, and engage with various building materials products under one roof in a highly modern showroom was our objective."
El-Sharkawy explained that the new showroom which display a range of products including "Classic" the ordinary Portland cement, " Flexi" the Portland limestone cement, an environment-friendly product which is produced by inter-grinding cement clinker with strictly controlled amounts of high purity limestone and gypsum, and the last product is "Shield" the new sulfate-resistant Portland cement.
Lafarge produces over 30mn cu/m of ready-mix concrete in the past decade.