The National Program to Support the Management of Projects in Public Entities (Mashroat) has signed a three-year partnership agreement with Serco, provider of essential public services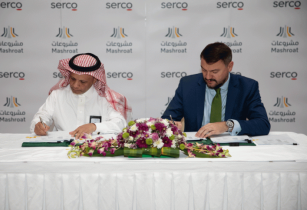 The partnership is set to create a proper climate to lead a transformation in the facility management industry in the country. (Image source: Mashroat)
The partnership aims to ensure that international standards in facility management (FM) will be followed through a knowledge transfer system which will enable Mashroat to design and implement policies, procedures and processes based on Serco?s experience.
The overall aim will be the improvement and enhancement of public facility and asset management systems across Saudi Arabia. The agreement follows substantial government investment over the past ten years, which were aimed at improving infrastructure sustainability and is expected to drive in an increase of more than US$80bn by 2030, according to a National Committee for Legislation and Standardization of Operation and Maintenance (NCLOM) report.
Ahmed Bin Mutair Al-Balawi, director general, Mashroat, said, ?The kingdom?s spending on infrastructure management is considered to be within the high rate, in accordance with international standards. However, Saudi Arabia seeks to improve the quality and user?s satisfaction, especially when it has the opportunity to enhance capital and quality efficiency in the public facility management segment within vision 2030.?
?Therefore, we are working to create a proper climate to lead a transformation in the facility management industry in order to enable the government sector in creating a flexible environment designed to manage its facilities and apply the highest standards of efficiency,? Al-Balawi added.
Phil Malem, CEO, Serco Middle East, commented, ?The signing of this new agreement with Mashroat underscores our commitment to the Saudi government to develop its public facilities in line with set international standards. We look forward to working together in ensuring that all future projects and facilities in the kingdom are managed to the highest levels of best practice.?