Comlux announced the groundbreaking of its new hangar facility at the Mohammed Bin Rashid Aerospace Hub (MBRAH) at Dubai South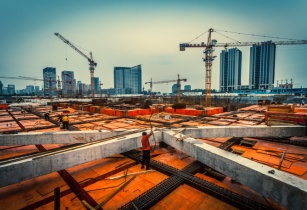 The future facility will span 12,000 sq m and boast a 5,000 sq m hangar. (Image source: Adobe Stock)
The ceremony took place in the presence of Tahnoon Saif, CEO of Mohammed Bin Rashid Aerospace Hub, and Richard Gaona, executive chairman and CEO of Comlux.
The future facility will span 12,000 sq m and boast a 5,000 sq m hangar, in addition to hosting an adjacent building spanning 2,250 sq m across three floors. The hangar will accommodate two ACJ or BBJ family aircraft types simultaneously (up to a maximum ACJ321 or BBJ3 size), including the future ACJ TwoTwenty, which will enter into service with Comlux Aviation in the coming months.
The ultra-modern facility will be fully equipped with solar panels allowing it to produce 100% of the electricity required by the company's activities. By the end of 2023, the hangar will be completely operational, allowing Comlux to provide its Middle East customers with line maintenance, AOG, and parking rental services.
Tahnoon Saif said, "Comlux's new facility will present added value for VIP clients across the region and the overall business aviation sector. At Dubai South, our mandate is to foster our wise leadership's vision of making the emirate becoming a leading global aviation hub. We will spare no effort in attracting top companies towards that end by supporting companies, such as Comlux, with their needs to complete and operate the new facility."
"I am extremely grateful to MBRAH's team for providing us with the ideal location and all the support required to launch the construction of our new facility at Dubai South. Next year, Comlux will have been in operation for 20 years; this project is another milestone in the development of Comlux worldwide, and Dubai is the ideal location to serve our Middle East and Africa customers. We look forward to welcoming them within one of the most modern and environmentally friendly centers in Dubai to provide them with high-quality and cost-efficient solutions for their VIP cabin changes and minor upgrades during their maintenance grounding time," stated Gaona.
Comlux Aviation manages a fleet of 22 VIP aircraft, including several Airbus and Boeing bizliners in operation: one ACJ318, two ACJ319, two ACJ320neo, two 737-500BBJ, one 767BBJ, and one 787 BBJ. Comlux Completion, based in Indianapolis, USA, is an approved ACJ and BBJ cabin outfitter, an ACJ service center, a BBJ warranty and repair facility, the exclusive completion center of the first 17 ACJ TwoTwenty cabins, and the first approved ACJ TwoTwenty service center.