During his official visit to AU Pavilion at Expo 2020 Dubai, the President of the Republic of Sierra Leone, HE Julius Maada Wonie Bio applauded the architectural layout and design of the African Union Pavilion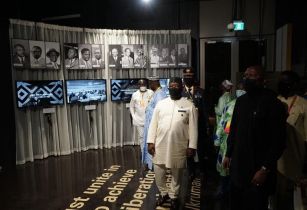 Julius Maada Wonie Bio visiting the AU Pavilion Design at the Expo 2020 in Dubai. (Image source: African Union at Expo 2020 Dubai)
During his visit, President Bio said, ?The African Union Pavilion at the Expo 2020 Dubai is a true reflection and representation of the continent that we want and are aspiring to be.?
People planning to visit the AU Pavilion can expect to traverse on a borderless journey that begins from the formation of the Organisation of African Unity (OAU) on 25 May 1963 in Addis Ababa, Ethiopia. The experience highlights the untold stories of the founding mothers and fathers of the OAU, dispelling myths and celebrating those who dreamt of the possibilities of a continent free from colonisation and united by the shared vision of collaboration.
He was joined by his official delegation at the Dubai Expo 2020 in Dubai.