District 2020, as the human-centric smart city evolving from Expo 2020 Dubai, has announced several major partnerships that will contribute to the curation of its innovation ecosystem and its start-up community, coinciding with the annual UAE Innovation week known as UAE Innovates 2021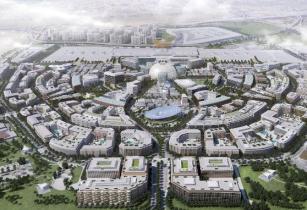 District 2020 is carefully curating an ecosystem that will prioritise the needs of these businesses and the future workforce. (Image source: District 2020)
During the nation-wide event, District 2020 is marking its contribution to driving innovation in the UAE and to supporting the UAE?s aim to be the most innovative and future-ready nation in the world.
District 2020 is bringing together global entities comprising of Fortune 500 companies, SMEs, Startups, Academic Institutes, Labs, Accelerators & VCs to actively curate the business ecosystem that will focus on spurring innovation. As a human-centred smart community, it is supported by the latest 5G connectivity, and advanced technologies such as IoT, an urban lab, and an environment designed to meet the needs of the businesses and people who will live, work and play there. It will facilitate collaboration and enable businesses large and small to test and pilot ideas and solutions that will positively advance their industries.
In addition to major global tenants including German giant Siemens, Shanghai-based Terminus Technologies, and DP World, District 2020 has announced new local and international alliances with start-up enabling entities from the UAE and from across international markets, including the USA, UK, Namibia, Slovenia, Malaysia, and Botswana. These latest partners will feed District 2020?s global entrepreneur programme, Scale2Dubai, with a pipeline of eligible international start-ups and small businesses creating a network of local, regional and international start-ups at the heart of the innovation ecosystem.
District 2020?s Scale2Dubai programme has been designed to give high-potential start-ups and small businesses the on-ground support to establish themselves in the UAE within District 2020, as a launchpad from which to access Middle East, Africa and South Asia (MEASA) and global markets. Scale2Dubai is an equity-free programme & its benefits include two years of free working space, a two-year visa, business set-up support, access to special rates from service providers, access to social and networking events, and more.
The latest international partnerships between Scale2Dubai and the US-based Founder Institute; British Centres for Business (BCB); Namibia?s Ministry of Industrialisation and Trade; the Slovene Enterprise Fund; Malaysian Global Innovation & Creativity Centre (MaGIC); Botswana?s Local Enterprise Authority; as well as the UAE-based MAGNiTT, underline District 2020?s commitment to attract and support small businesses and start-ups in the region and around the world. These latest collaborations follow District 2020?s partnerships with key local entities including Dubai SME and the Mohammed Bin Rashed Innovation Fund.
Through its human-centred approach and infrastructure design, District 2020 is carefully curating an ecosystem that will prioritise the needs of these businesses and the future workforce in a rapidly evolving global landscape and post-pandemic world. By inheriting from Expo 2020 Dubai one of the most well-connected sites with advanced connectivity and ICT infrastructure, District 2020 will integrate innovative applications of the latest smart technologies ? such as IoT ? to address challenges, and improve services enabling the community to function both smarter and more sustainably. This will be supported by District 2020?s urban lab, an open data platform and test bed for entities to test their solutions to urban challenges in a live urban environment.
District 2020?s unique human-centric physical environment ? which re-purposes 80% of the Expo 2020 event infrastructure and iconic structures - has also been designed to fuel the collaboration and the spaces that will enable innovation to thrive. As a fully integrated and human-scale community with pedestrianised neighbourhoods that combine flexible offices, modern residences, parks, retail, leisure, F&B and events, it will foster connection, a sense of community and balance. It will cater to the needs of the future workplace and different sized innovation-driven businesses that are increasingly seeking flexibility and prioritising health and wellness. Ultimately, District 2020 is curating a progressive environment that aims to enable diverse businesses and people to connect, innovate and flourish.
Tala Al Ansari, director, innovation , District 2020, said, ?We are designing an innovation ecosystem and community that will enable businesses at District 2020 to realise their potential. We understand how challenging it is for most businesses to scale in new markets. By studying the challenges faced by start-ups and small businesses, we designed the Scale2Dubai programme to specifically address their needs and support them in their journey. Through our engagement with Scale2Dubai partners who possess vast entrepreneur networks, we are building a global innovation ecosystem and attracting businesses who will become valuable contributors to the growth of the UAE start-up ecosystem and innovation economy.?