Dubai Roads and Transport Authority (RTA) has opened phases 3 and 4 of roads leading to Expo 2020 project, aiming to ensure a smooth traffic flow that serves visitors and future projects in the area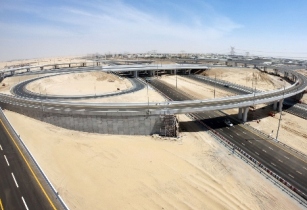 RTA has a master plan for serving the needs of hosting Expo 2020. (Image source: RTA)
The two phases, costing US$353mn, included the construction of bridges and roads extending five km and 17 km.
Mattar Al Tayer, director-general and chairman of the board of executive directors of RTA, said, ?The improvement of roads leading to Expo is one of the biggest roads? projects currently undertaken by RTA to meet the needs of hosting Expo 2020 in Dubai. Due to the immense nature of the project, it had been divided into six phases to ensure the delivery of all works on the prescribed timeline, well before the opening of Expo.?
Works completed included constructing intersections of Sheikh Zayed bin Hamdan Al Nahyan Street with both Expo and Al Yalayes Streets, building two flyovers on Sheikh Zayed bin Hamdan Al Nahyan Street at Dubai Investment Park, and widening Sheikh Zayed bin Hamdan Al Nahyan Street from two to five lanes in each direction.
Under phases 1 and 2 of the project, the roundabout at the intersection of Sheikh Mohammed bin Zayed Road with Expo Road had been converted into a flyover. The total length of roads constructed under these two phases amounted to 43 km.
Phases 5 and 6 of the project cover improvements of Expo Road as well as the intersection of Emirates Road and Expo Road. Under these two phases, bridges to be constructed will span four km in length, and roads will extend 11 km in total.