Saudi Arabia has unveiled the design of its pavilion for the upcoming Expo 2020 Dubai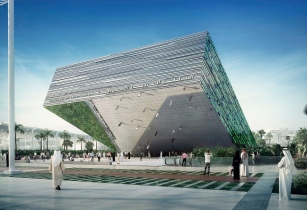 The construction of the pavilion has been designed by Boris Micka Associates. (Image source: ArchDaily)
The pavilion will be second in size only to that of the UAE pavilion, covering an area the size of two football pitches.
The pavilion, symbolising Saudi Arabia?s ?welcoming character, long heritage and unlimited drive,? adopts a design that is ?distinctive and memorable,? according to a statement detailing the reveal.
The facade opens like a large window into the future, soaring into the sky and reflecting a society deeply rooted in its culture with unlimited ambitions, the statement added.
The pavilion will give visitors an immersive experience of the kingdom?s transformation and its rich tradition, ambition and innovation. A path will lead visitors through exhibition displays which highlight the country?s openness to businesses and tourists, and its desire to build links and collaborate with countries to create a better future for everyone.
?This innovative design perfectly captures the determination of the kingdom to fulfil its promise of being an ambitious nation while conveying a message of dynamism and partnership with the world,? said Mohammed Al-Tuwaijri, Saudi Arabia?s minister of economy and planning and chairman of the supervisory committee for the kingdom?s participation in Expo 2020 Dubai.
Meanwhile, consultancy firm EY has revealed that Expo 2020 Dubai will boost the UAE economy by US$33.4bn.
In an independent report compiled by EY, the expo is predicted to add the equivalent of 1.5 per cent to UAE?s gross domestic product.
The scale of investment pouring in to construct and host an event of this ambition, as well as goods and services consumed by the millions expected to visit and the businesses that will occupy the expo site in the legacy phase, will result in an economic dividend that will benefit businesses large and small across a range of sectors for years to come, according to the report.
More than 80 per cent of the expo built environment is planned to be retained for District 2020, and eventually, expand into a city covering more than four million square metres. District 2020 companies will be focused on technology and innovation, including a mix of corporations and SMEs. The Dubai Exhibition Centre is also expected to be a key facility on the site. District 2020 has been planned to support the UAE?s future vision by supporting sustainable economic development, moving toward an innovation-driven economy and creating a business environment to help support key growth industries such as logistics and transport, travel and tourism, construction and real estate and education.