The thyssenkrupp elevator, a specialist in passenger transportation systems, will feature its MULTI system, the world?s first ropeless elevator for skyscrapers, at the German Pavilion of Expo 2020 Dubai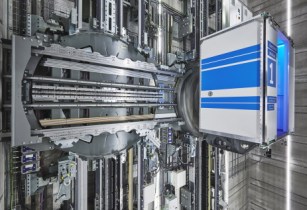 MULTI was unveiled to the public in June 2017 in Rottweil, Germany. (Image source: thyssenkrupp)
The thyssenkrupp elevator was selected by the German Federal Ministry for Economic Affairs and Energy as one of the lighthouse projects to be presented in the German Pavilion, called CAMPUS GERMANY.
Peter Walker, CEO at thyssenkrupp Elevator, said, ?Dubai is a city that provides a platform for inventions, attracting people and businesses from around the world. MULTI will support this aim, demonstrating to those at EXPO 2020 precisely how technology can support the growth of urban mobility.?
According to the company, MULTI revolution is changing the way people move inside buildings, providing completely new perspectives for architects, planners and operators.
By employing linear motors for each cabin, no ropes are needed at all - and MULTI can move both vertically and horizontally. Without ropes, MULTI enables the construction of much higher buildings in cities as the solution requires fewer and smaller shafts than conventional elevators and can decrease a building?s elevator footprint by up to 50 per cent.
At EXPO 2020, MULTI will demonstrate how various transportation solutions, from underground logistics to air-taxis, can be interconnected with ropeless elevators. Skybridges powered by the horizontally-moving MULTI will lift passenger transportation to a whole new level.
MULTI was unveiled in 2017 at thyssenkrup?s 800-foot tall, test tower in Rottweil, Germany. The innovation is currently undergoing testing and certification in Rottweil.