AEG Power Solutions, a global provider of AC & DC power supply systems and solutions for all types of critical and demanding applications, has announced the launch of its new generation of switch mode modular DC charger, Protect RCS MIPe, based on the new MIPe rectifier modules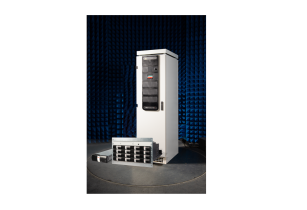 The heavy-duty design ensures that the system can be located in a harsh industrial environment. (Image source: AEG Power Solutions)
Edge-technology based, the rectifier and the system are combining ruggedness of design with high reliability and very high efficiency to ensure the continuity of service to critical DC loads in all types of environments. The systems are very flexible and easy to use and maintain.
Protect RCS MIPe series provide high power density in a compact design and built-in protection. AEG PS leveraged its industrial expertise to develop a rectifier module embedding the benefits and field experience of the SMi2000 rectifiers in a ruggedised and enhanced version. The MIPe rectifier is robust due to its very wide operating input voltage (100 to 275Vac). In addition, the width of the modules has been divided by 2 compared with the former generation and the volume of the power core of the system was also reduced by half.
The heavy duty design ensures that the system can be located in a harsh industrial environment. It operates at a high level of availability with N+1 internal redundancy of rectifier modules. The system can be easily maintained thanks to hot-swappable modules which makes it also easily scalable and power can be increased directly on-site when necessary
Protect RCS MIPe comes with low input current harmonics and high power factor, thus minimising electromagnetic pollution and maximising efficiency which has been improved up to 95%. The intelligent controller and idle mode operation further guarantee that the system is always operating at the highest level of efficiency. The controller runs a permanent assessment of the DC power needed by the loads and adjust modules accordingly.
The system embeds built-in intelligent battery management and is compatible with all industrial battery types including gas recombination, with easy parameter adjustment which can be monitored via the front panel display. Large communication facility options and an inbuilt programable logic control provide a wide range of interaction possibilities with external systems.
Protect RCS MIPe is a cost-effective system with minimised operating costs, prepared for possible future power expansion. The system exists in a pre-defined configuration to reduce lead times and is also available as a 19" battery charger subrack version for a direct cabinet integration as ready to use solution.