The new 980L medium wheel loader is to feature greater operator comfort, more power, greater fuel efficiency, drive-train refinement and safety enhancement over its predecessor ? the 980H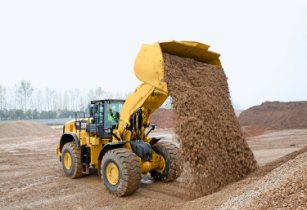 CAT launch its new 980L medium loader. (Image source: CAT)
The updated CAT ACERT engine offers an increase of power by five per cent compared to the 980H, improving the machine's performance. In addition, the 980L utilises the Caterpillar Advanced Productivity Electronically Controlled (APEC) control system with the 4F/4R countershaft power-shift transmission to ensure that power is controlled and used efficiently to maintain optimum performance.
Another new feature to the 980L is its fuel efficiency. It uses up to 25 per cent less fuel than its predecessor, the 980H, while maintaining its power and performance. The axles have been modified to reduce parasitic loads and enhance positive lubrication. This, in cooperation with the traction control, improves traction, reduces tyre wear and is fully automatic.
The one-piece tilting hood with side and rear access doors provides easy access to daily fluid level checks fuelling points and full engine compartment when required. Electrical and hydraulic service centres provide grouped, ground-level access to such items as SOS (Scheduled Oil Sampling) ports that facilitate collecting fluid samples at optimum points in a circulating system.
Another benefit is CAT?s PAYLOAD technology. One piece of this technology is the optional CAT Production Measurement system, which accurately weighs materials being loaded and hauled to improve productivity, reduce overloading and track material movement. This provides simple, accurate, on-the-go weighing to assist operators in delivering exact loads and working more efficiently.