Caterpillar has launched the Cat 825K compactor for operators to take on heavy-duty compaction and dozing operations in the Middle East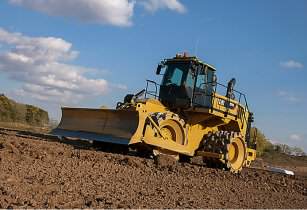 With a maximum operating weight of 35,528 kg, the Cat 825K compactor develops 302 kW from its Cat C15 ACERT engine. (Image source: Caterpillar)
The US-based company said that the Cat 825K compactor incorporates the company?s machine drive power (MDP) system ? a feature that enables operators to consistently attain compaction specifications with minimal passes and yield low-operating costs by saving time, fuel, rework expense, and machine hours.
The design of the compactor ensures resistance to twisting forces and shock loads. Along with compaction intelligence, the compactor features massive structures for long-term durability, which ensures optimum comfort, safety, and productivity.
An official from Caterpillar said that the operator?s safety is assured by a rear-vision camera or the Cat Detect system, which monitors the work area and reports potential hazards in the machine?s path.
?Focused on helping our customers? needs, we have continued to build upon each new series. The Cat 825K compactor continues our legacy of reliability, performance, safety, operator comfort, serviceability, and efficiency,? said the official.