CIOE, Intelligent Sensing Expo has focused on new products, technologies, and trends of sensors, also has paid attention on the application of sensors in consumer electronics, smart driving, smart home, advanced manufacturing and, medical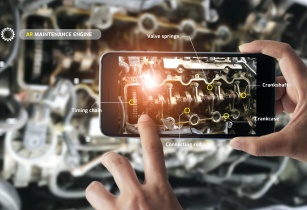 CIOE-Intelligent Sensing Expo promotes industrial development. (Image source: Adobe stock)
With the development of a new generation of information technology industry, sensor technology and systems are becoming an important industry in the national economy. Statistics show that China's sensor market size has reached US$33.46bn, and the market size is expected to reach US$45.81mn by 2021, and the industry will maintain a rapid growth rate of 17.6%.
The exhibits cover Lidar, 3D vision, industrial sensors and measurement, fibre optic sensors, millimetre wave radar and IoT.
Lidar
CIOE 2021 focuses on displaying well-known domestic and foreign Lidar brands and innovative products, from core components such as lasers, scanners and photodetectors to LiDAR systems and solutions, with the participation of companies including ON Semiconductor, Innoviz, Robesnese, Surestar, Innovusion, Ouster, Neuvition, Hesai, Lorentech, HongKe, Tanway, Leizhi, Litratech, Robvision, DJI, LuminWave, Timootech, Siheria and Photonx.
3D Vision
3D vision is more applied to face recognition, map GIS, driver recognition, autonomous driving, AR/VR action recognition, UAV flight obstacle avoidance, industrial robot object recognition, and security monitoring. As a 3D vision industry event, Intelligent Sensing Expo showcases infrared LEDs, VCSELs, MEMS micro-mirrors, image sensors, image processing chips, application solutions, etc.
Industrial Sensing
CIOE and Shenzhen Sensor and Intelligent Instrumentation Industry Association have joined hands to create a special industrial sensing exhibition area, with some representative enterprises including Lixinrui Control Technology, Soway, Kepurui Sensor Instrument, GIDomino, XJCSensor, Kemit, Hoto Intelligent Control, Topera Technology, Wangsensor, INFRATEC, FiberSens, which focus on displaying position, liquid level, displacement, pressure, infrared dust, and other types of sensors.