Combilift, the material handling solutions provider, has launched a new high capacity powered pallet truck ? the Combi-PPT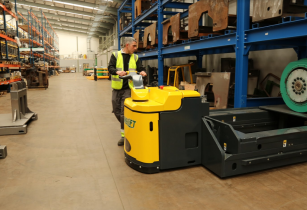 The Combi-PPT aims to handle very heavy loads using these walk-behind machines, ensuring high levels of safety. (Image source: Combilift)
With standard lift capacities of 3,000kg and 6,000kg and higher capacity models from 7,000 kg to 16,000 kg available on request, the new powered pallet truck aims to provide an added benefit for operators when large distances have to be covered in a warehouse or production plant.
The Combi-PPT focuses on enabling the operator to stand at the side of the unit rather than at the rear and giving operators excellent visibility of even the bulkiest loads and their surroundings, eliminating the possibility of a crush risk when working in confined areas and prevents product damage.
?With the introduction of the Combi-PPT, very heavy loads can now be handled using these walk-behind machines, ensuring high levels of safety whilst guaranteeing efficient procedures even in confined spaces,? said Martin McVicar, managing director at Combilift.
?Combilift developed its first pedestrian models ? the Combi-WR, Combi-WR4 and the Combi-CS ? in response to an industry demand to move away from ride-on forklifts. As a company we are seeing a growing demand for pedestrian trucks, driven by safety concerns where customers and employees are in the vicinity of operating forklifts,? McVicar explained.
According to Combilift, ?The power steering, dual rear wheel drive and AC motor technology make it effortless and stress-free for operators. It glides across the floor when moving very heavy loads and its manoeuvrability enables tight corners to be negotiated safely and with ease. A range of optional fork lengths, widths and configurations are available ? in line with Combilift?s policy of supplying customised solutions for individual customer requirements.?
With the new model, the company is set to expand its pedestrian forklift range that aims to provide safer operation, maximum operator visibility and narrow aisle performance.