GF Piping Systems has introduced its latest sustainable process automation innovations while launching its new Butterfly Valve 565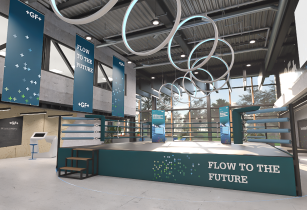 GF Piping systems introduces it's sustainable process automation innovations, launching its new Butterfly Valve 565. (Image source: GF Piping Systems)
The main attraction, Butterfly Valve 565, the newcomer to GF Piping Systems line-up of butterfly valves, has been specifically designed to beat metal butterfly valves in a wide range of applications.
Thomas Kuessner, head of product management, Valves, said, ?The Butterfly Valve 565 is a complete solution for the water segment which solves all of the typical problems customers have been experiencing with metal valves."
"Thanks to its higher resistance against corrosion, longer service life, and more effective use of energy and resources during industrial production, our new Swiss-made valve provides a more cost-effective and sustainable solution for a wide range of applications. Its quick and simple retrofit capability adds to the knockout arguments that will make our highly reliable and lightweight valve a winner in the market segment,? he added.
The new release from GF Piping Systems is made from superior thermo plastics and built to last, with a longer lifespan in many industries applications and a greater contribution to a more sustainable world.
GF Piping Systems showcases its process automation and water treatment solutions of the future. All of which can contribute to better water quality and reduce the impact these processes have on the environment.
Antoine Walter, senior business development manager, Waste Water Treatment, said, ?GF Piping Systems is not just a single valve, actuator, controller, or sensor provider but offers the complete process control loop portfolio specifically customised to customer needs, with a premium product range under one common aesthetic. To simplify planners and installer?s lives, GF can provide a one partner, one process, and one platform approach to process automation for multiple water treatment applications.?