Hannay Reels, one of the leading manufacturers of durable hose and cable reels for OEM and aftermarket applications, is offering 1500 Series Hose Reels with an aim to provide dependable and best-engineered solutions in the business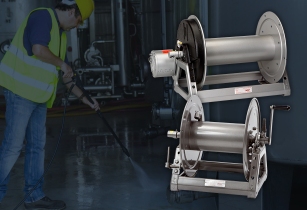 These reels can stand up to daily use in even the harshest environments. (Image source: Hannay Reels)
Hannay?s 1500 Series reels are ideal for a variety of applications that require long lengths of hose including steam cleaning, high pressure, air and more.
Designed with a sturdy construction and manufactured from only the highest-quality materials, these reels can stand up to daily use in even the harshest environments.
Available in manual and power rewind, these reels can handle 3/8? through 5/8? I.D. hose. A heavy-duty upgrade option is available with a reinforced frame, stiffer spool to handle high pressure hose expansion and larger frame for hoses with a higher bend radius.

To get more information, visit www.hannay.com