Ten years of customer focus and mutual support generated lots of shared success stories for Haulotte Group and its partners in the Middle East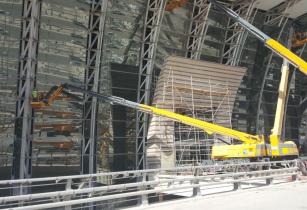 Haulotte?s success story at King Abdul-Aziz International Airport in KSA. (Image source: Haulotte Group)
The project of the new King Abdul-Aziz International Airport in Jeddah, Saudi Arabia, is one of them. Roots Group Arabia and United Gulf Equipment Rentals, partners of Haulotte Group in the region, supplied the entire project site with a full range of Haulotte products.
The King Abdul-Aziz International Airport is developed by the kingdom?s General Authority of Civil Aviation to increase the airport?s yearly capacity from 13mn to 80mn passengers. The development is planned to be in three phases. The first phase of the construction would be completed in mid-2017.
The new airport, over 105 sq km, is considered one of the most important modern landmarks in the city. It had won an award for the world?s best airport engineering project at the 8th Annual Global Infrastructure Leadership Forum in 2015 in terms of specifications and modern technology. The importance of this project lies in its special architectural design which is performed through high international standards to be one of the best sustainable airports in Middle East where energy and environmental issues were highly considered.
The Innovative technology of Haulotte Big Booms was the best solution for one of the world?s most developed airport construction site where they are used for building and finishing the modern high tech elevations. The Telescopic HT43RTJPRO which is well known for its rough terrain capabilities and Diesel Articulated HA41RTJPRO with its 360 continuous turntable rotation ability were utilised to reach the difficult working areas in top of the elevations. The HA260PX which offers the best productivity in the best comfort and safety feeling was used in building the bridges of the railway station that will ensure the connection with the two Holy Cities Mecca and Madina meeting the demand from religious tourism.
Several numbers of Haulotte Diesel & Electric Scissors have been used in the interior jobs. H18SX & H15SX are perfectly up to these tasks with their ergonomic and spacious designed platform thanks to a double extension. The superior 4WD with hydraulic differential lock greatly improves the traction on all grounds & the heavy duty compact 8 was used for the electrical installations, false ceiling, fire sprinkler installation and interior design of the airport.